Danville Chamber of Commerce Farmers Market
Saturdays from 8:00 AM to noon
May 8th through September 4th
Washington Street
(East side of the Danville Square)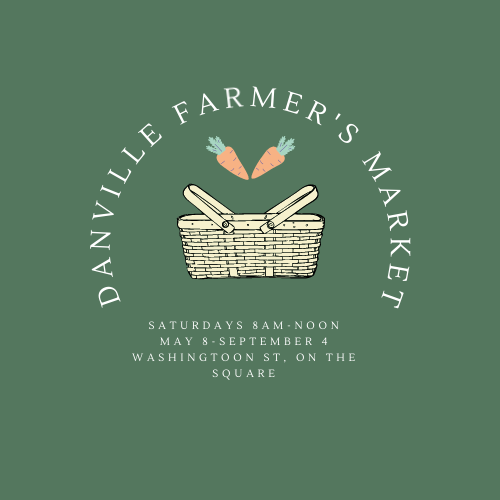 This market is a producer only market.
All goods sold are to be grown, made or baked by the vendor.
No re-sale items are allowed.


Thank you for supporting the Danville Farmer's Market!
Vendors must receive approval prior to coming to the Market.
Questions regarding the market can be directed to
the Danville Chamber of Commerce at
317-745-0670.
55 Below Treats 
Freeze dried candies
Bath Omens
Hand made soaps and bath bombs
Be Joyful 
Baked goods, decorated sugar cookies, other cookies, cupcakes, pies, breads, cobbler, rolls, brownies, and more
Bo-Mar Farm
Pies, quick breads, breads, dinner rolls, scones, muffins, cookies, dog biscuits, and other baked goods
Cabin Coffee Co.
Hot and cold coffee, bags of coffee, inbru, espresso beans/chocolate bar, potential baked goods
Courthouse Grounds 
Famous Bill Pickle soup.
Faire Hill
Handmade soap, salves, bath products, herbal/essential oil infused lip balms
Gordon Family Farm
ANA certified, humane pasture pork (all cuts), all natural chicken (all cuts)
Greene Acres Farm
Frozen lamb
Hitchcock Produce and Flowers
Cut flowers, green beans, corn, peppers, cucumbers, tomatoes, egg plant, lettuce, kale, spinach, broccoli, cauliflower, and cabbage
Homegrown Harvest
Peas, kale, lettuce, carrots, onions, cucumbers, beets, radishes, herbs, zucchini, collard greens, green beans, swisschard, spinach, garlic, turnips, and baked goods: rolls, breads, cake, cinnamon rolls, and more
J&L Italian Foods
Tomato Sauce
Mask Lady
Handmade face masks for the global COVID-19 pandemic.
My Hunny's Honey
Honey, raw honey, infused honeycombs, beeswax, honeysticks
Neier Farms and Produce
Produce and flowers
Smoky Hollow Hots
Hand poured candles (soy or paraffin), wax melts, air fresheners, incense
Summersfield Farm
Herbs, perennials, native plants, blown glass
The Little Kitchen: Danville, IN
Canned jams, jellies, pickles; vanilla extract, baked goods/nuts; small crafts
Walden Made
Handmade signs and furniture
Wyeth Farms
Freezer beef