Danville Chamber of Commerce Farmers Market
Saturdays from 8:00 AM to noon
May 9th through Sept. 5th
Jefferson Street
(West side of the Danville Square)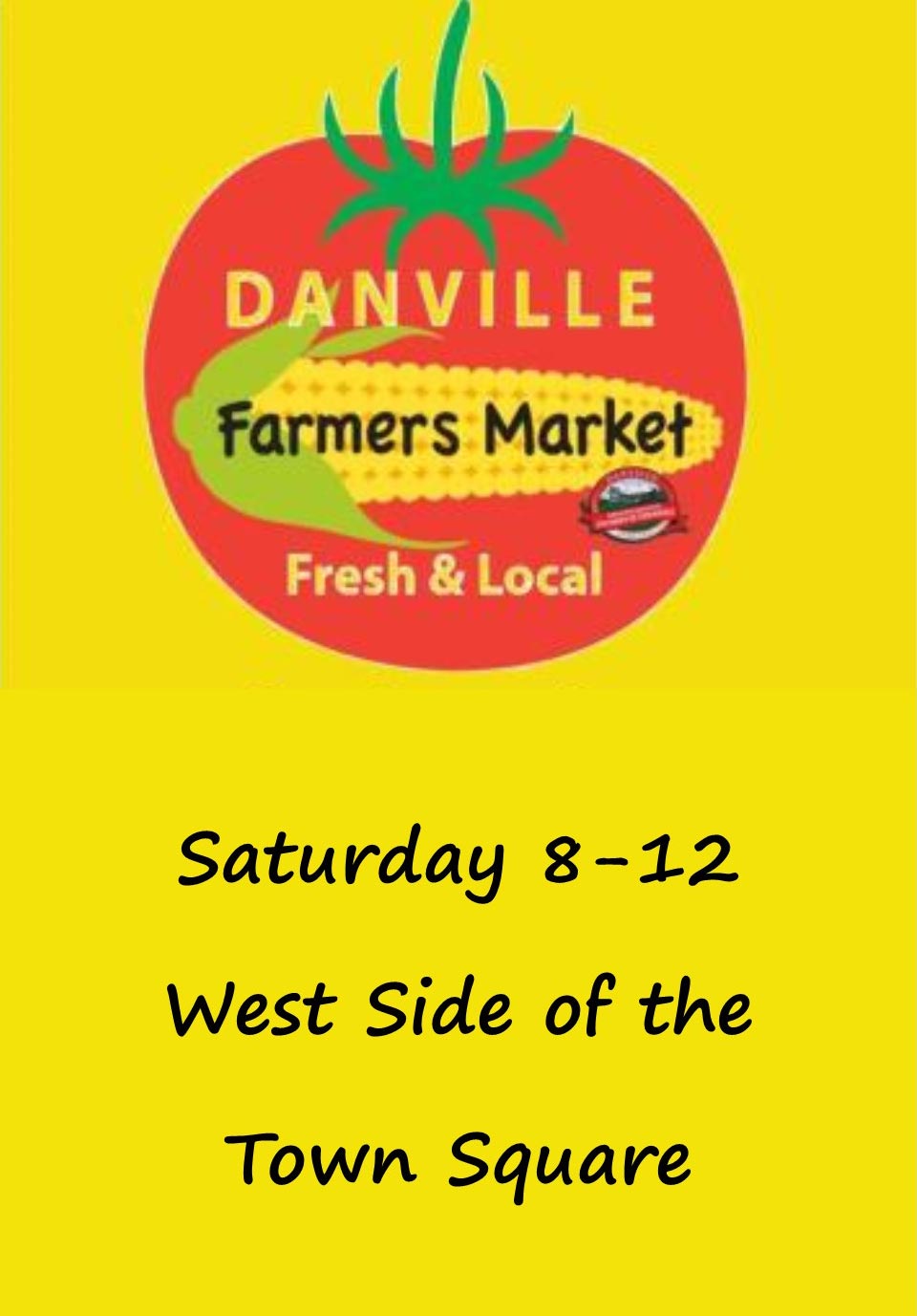 This market is a "producer only" market.
All goods sold are to be grown, made or baked by the vendor.
No re-sale items are allowed.


Thank you for supporting the Danville Farmer's Market!
Vendors must receive approval prior to coming to the Market.
Bath Omens
Hand made soaps and bath bombs
Bo-Mar Farm
Pies, quick breads, breads, dinner rolls, scones, muffins, cookies, dog biscuits, and other baked goods
Faire Hill
Handmade soap, salves, bath products, herbal/essential oil infused lip balms
Gordon Family Farm
ANA certified, humane pasture pork (all cuts), all natural chicken (all cuts)
Greene Acres Farm
Frozen lamb
Hitchcock Produce and Flowers
Cut flowers, green beans, corn, peppers, cucumbers, tomatoes, egg plant, lettuce, kale, spinach, broccoli, cauliflower, and cabbage
Homegrown Harvest
Peas, kale, lettuce, carrots, onions, cucumbers, beets, radishes, herbs, zucchini, collard greens, green beans, swisschard, spinach, garlic, turnips, and baked goods: rolls, breads, cake, cinnamon rolls, and more
Kristi's Soap Market
Handmade coconut milk soap, body butter, sugar scrub, lip balm, bath bombs, face care products, hard balm.
My Hunny's Honey
Honey, raw honey, infused honeycombs, beeswax, honeysticks
Neir Farms and Produce
Produce and flowers
Smoky Hollow Hots
Hand poured candles (soy or paraffin), wax melts, air fresheners, incense
Summersfield Farm
Herbs, perennials, native plants, blown glass
The Little Kitchen: Danville, IN
Canned jams, jellies, pickles; vanilla extract, baked goods/nuts; small crafts
Walden Made
Handmade signs and furniture
Wyeth Farms
Freezer beef