Danville Chamber of Commerce Farmers Market
Saturdays from 8:00 AM to noon
May 13th through September 2nd
Washington Street
(East side of the Danville Square)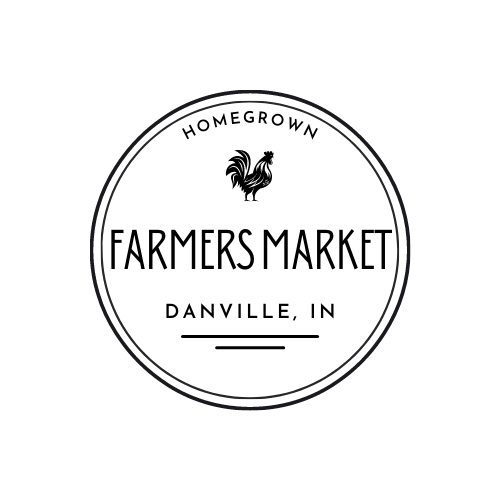 This market is a producer only market.
All goods sold are to be grown, made or baked by the vendor.
No re-sale items are allowed.


Thank you for supporting the Danville Farmer's Market!
Vendors must receive approval prior to coming to the Market.
Applications due March 16th, 2023.
Questions regarding the market can be directed to
the Danville Chamber of Commerce at
317-745-0670.
2023 Season Market Vendors
(Amish) J and K Farm
(Amish) Wolf Creek Produce
Bath Omens
Chicky's Cakes, Candies, & Crafts
Corn Family Farms
Courthouse Grounds
D&L Pottery
Danville Public Library
ElizaRay Co.
Fairie Hill
Getting Naked Soap Co.
Gordon Family Farm
Gordon Family Food Truck
Hendricks County Master Gardeners
Hitchcock Produce & Flowers
Lainie's Goats
My Hunny's Honey
Neier Farms and Produce
O2 Creations LLC
Out of the Box
Paper Cup Bake Shoppe
Rumored Blooms Flower Farm
Smith's Metal Petals
Smoky Hollow Hots
Summersfield Farm
The Beth Cakes
The 7 Maples
The Little Kitchen
Tuareg Craft LLC
WaldenMade
Wesson's Canine Bakery
Wyeth Farms