Danville Chamber of Commerce Farmers Market
Saturdays from 8:00 AM to noon
May 7th through September 3rd
Washington Street
(East side of the Danville Square)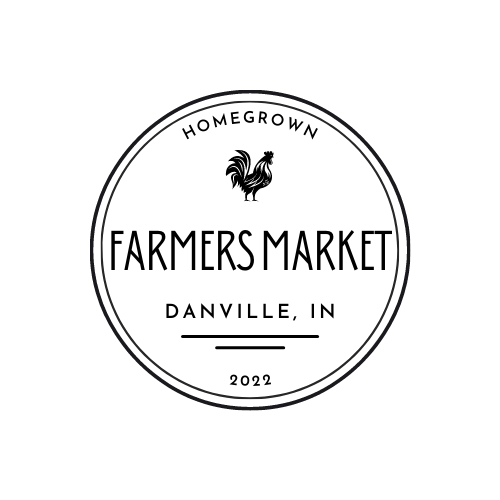 This market is a producer only market.
All goods sold are to be grown, made or baked by the vendor.
No re-sale items are allowed.


Thank you for supporting the Danville Farmer's Market!
Vendors must receive approval prior to coming to the Market.
Applications due March 18th, 2022.
Questions regarding the market can be directed to
the Danville Chamber of Commerce at
317-745-0670.
2022 Season Market Vendors
Bath Omens
Chicky's Cakes Candies and Crafts, LLC
Corn Family Farms
Courthouse Grounds
Fairie Hill
Gordon Family Farms
Hendricks County Master Gardeners
Hitchcock Produce and Flowers
Lainie's Goats & Company
Lauren Williams
Marvelous Day Creations
My Hunny's Honey
Neier Farms
Pop A Kernel
Rose Jewel Creations
Smokey Hollow Hots
Summers Field Farm
The Beth Cakes
The Fiesty Unicorn
The Little Kitchen
The 7 Maples@Abner Acres
Tuareg Craft
Walden Made
Wesson's Canine Bakery
Wyeth Farms