The Town of Danville has a rich history of providing residents and visitors great recreational facilities such as Ellis Park, Blanton Woods, and more recently the Danville Athletic Club located in the Town Hall. These facilities provide many family friendly opportunities to enjoy nature, become fit and hold events in beautiful settings. Whether is is swimming in the Gill Aquatic Center in the summer or playing basketball or volleyball in the Town Hall gym in the winter, there is fun for all throughout the year.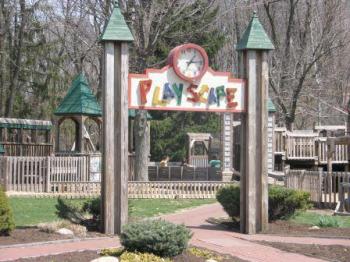 Playscape
Playscape was built by the group known as "Friends of the Park"
in 1998. It can provide hours of fun for children while providing
physical activity in a safe environment.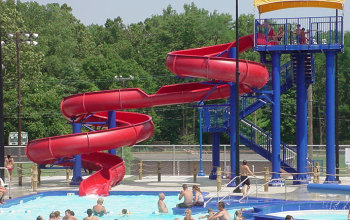 Gill Family Aquatic Center
This water park is a great place to bring the family.  The features of   GFAC are as follows zero depth entry, play feature, lazy river, vortex,  two 120ft water slides, diving board, and a splash pad.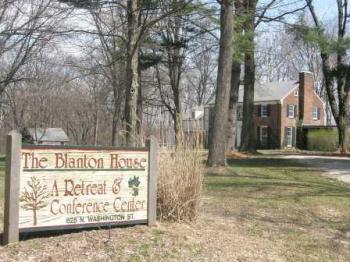 The Blanton House
Mrs. Jeanette Blanton and family donated 53 acres of woodland to the Town of Danville in 1993. The property is comprised of lower floodplain, upland forest and open meadows. Mrs. Blanton donated the land with the agreement that it would be strictly used for nature study.  She asked that no "active recreational" areas ever be built on the property. The property was named "Blanton Woods Nature Park".  In the year 2000, after the passing of Mrs. Blanton, the town purchased her home and another 20 acres. The Blanton House Conference and Retreat Center is available for weddings, retreats, meetings, and small parties. In 2003, the park department purchased land off of Columbia Street to physically join together Blanton Woods and Ellis Park. At that point in time a $150,000 pedestrian bridge was erected over White Lick Creek.  Thousands of hikers have enjoyed walking to and from both parks.
The Blanton Estates are truly one of Danville's finest assets.
The Danville Parks have many other activities available for people of all ages and abilities. Those activities include  baseball fields, football fields, basketball courts, clay tennis courts, trails and an amphitheater. Just enjoying your lunch in one of the shelter houses, the gazebo or in the Train Station, Ellis Park makes "spending a day or a lifetime" in Danville teriffic!
For more information about the facilities and rental rates visit the park's website.
Danville Athletic Club in the Town Hall
The DAC is open to the public and features a full sized gym, weight and cardio equipment, fitness classes and has a personal trainer available for appointments. For more information click here